Google Adwords ?
Google Adwords is an Google advertising program to provide advertisers promote their website's products and services using the Cost-per-Click bidding (CPC). CPC means that the displayed ads won't be charged unless someone click on the ads.  Besides, you can set your own budget with Adwords and at any time, you can change your campaign.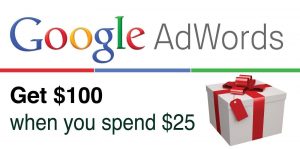 Steps to receive the free credits
The new Google Adwords account should be created and must be 14 days old or less for the qualification process. Have you registered the new account? If no, click HERE
Click on the link next to your country. It will redirect you to the Google's local AdWords page. Then, you may enter your email address that will be linked to your Google Adwords account. You may request the promotional coupon there.
Log in to your Google Adwords account here after you receive the promotional code.
At the promotional codes page, you may click the setting icon at the right corner of Google Adwords dashboard, then click the Billing option > Manage promotional codes > Promotional code
You may enter your promotional code and please make sure that you enter the code exactly as it was sent to you. Next, click Save button
Then, the Google Adwords campaign can be created and you may spend a certain amount for the campaign. The amount spend depends on the country currencies. Meanwhile, the time frame to spend the amount takes one or two months.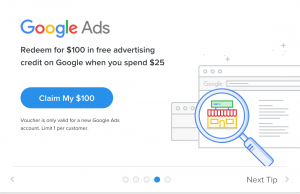 You may follow the steps above, and it will reward you with 100 or 150 free credits. Goodluck !